Your Customers Respond to Airport Advertising
Target travelers with your message at key touchpoints throughout the passenger journey from ticketing to gate and bag claim. With over 275,000 enplanements per year, advertising at Rapid City Regional Airport allows brands to reach a highly captive audience.
68% of U.S. Air Travelers associate airport ads with high-quality brands and services.
76% of U.S. Air Travelers take action after seeing airport ads.
Of U.S. Air Travelers read airport advertising.
Source: Nielsen Airport Insights Study Air Travelers: U.S. adults 18+ who take 1+ domestic round trips per year
Advertise on 10 monitors including gate screens, ticketing counters, baggage claim, TSA checkpoint monitors and passenger waiting areas. A minimum of 86,400 displays per month.
Annual: $300/month
Includes bonus features including Video Wall Placement
10% pre-payment discount available
Ad upload fee waived for one ad
6 Months: $500/month
Ad upload fee waived for one ad
1 Month: $600/month + $50 ad upload fee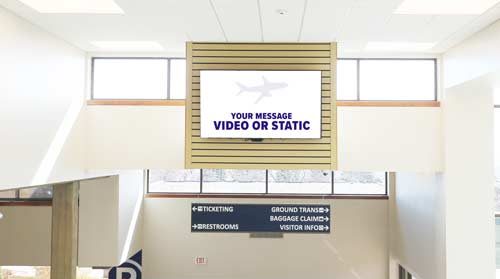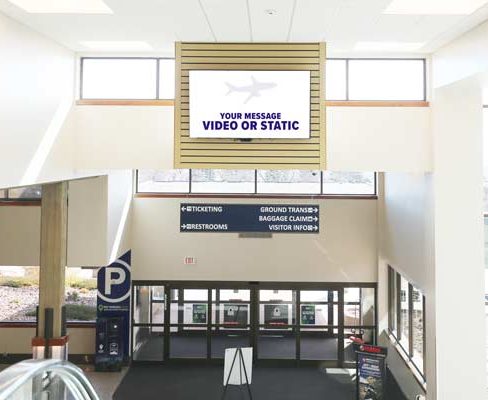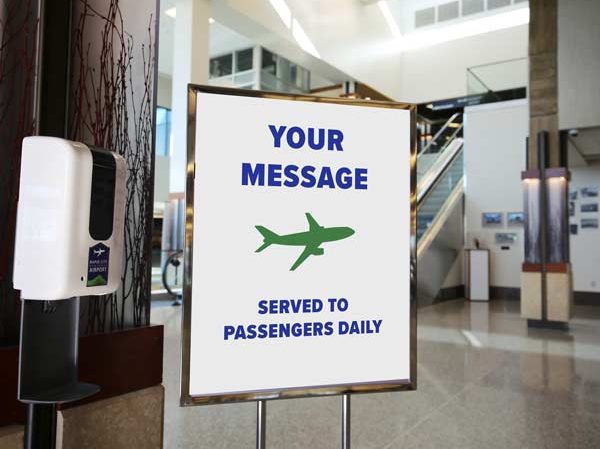 VERY LIMITED AVAILABILITY
Print media demands attention!
6 Months: $100/month/sign
Printing and installation provided by airport
1 Month: $150/month/sign
Advertiser responsible for printing
Jet Bridge Panel Ad
Individual jet bridge panels may be purchased for specialty, long-term displays. Minimum one year contract with fee waivers to offset cost of installation. Pricing from $150 to $1,000 per month.
Baggage Claim Belt and Pole
Two belts and corresponding poles available for specialty, long-term displays. Available through bid process. Minimum one year contract.
Specialty Wall Displays
Limited spaces available for specialty, long-term wall displays.
Pricing from $100 to $900 per month.
Sponsorships
Specialty items such as baggage carts, 3-1-1 Ziploc bags, charging stations, gate sponsorships etc. will be considered by the airport upon request.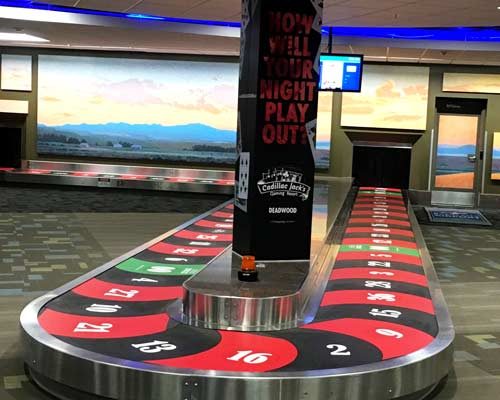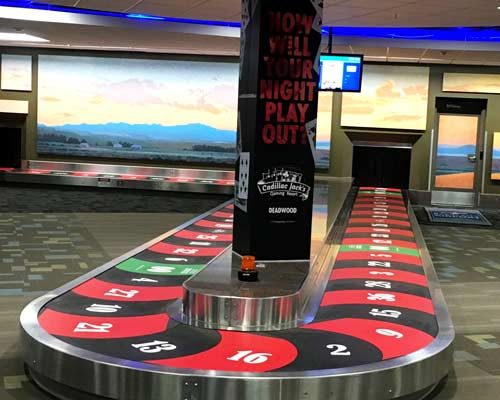 Production and Installation
Advertiser is responsible for providing their advertisements ready for installation unless otherwise agreed-upon in long term contract.
Creative Guidelines. All advertising must be in compliance with the Rapid City Regional Airport's Advertising Program Guidelines. All commercial concepts and final production must be approved by the Airport. Advertisements shall be in good taste, professionally developed and enhance the Airport. The Airport reserves the right to deem any display inappropriate and may cancel this agreement and remove any advertisement at its sole and absolute discretion.